Seafood & Grill Menu
Seafood & Grill Dinner Menu - sample menu
Award Winning Artisan Bakery Two Magpies Bread
Pinney's of Orford Oysters
Heritage Tomato & Watermelon Salad (V)
white balsamic, basil, crumbled feta
Warm Homemade Pitta Breads (V)
Crispy Fried Chicken Wings
Seafood & Grill Dinner Menu - sample menu
Award Winning Artisan Bakery Two Magpies Bread
Pinney's of Orford Oysters
Heritage Tomato & Watermelon Salad (V)
white balsamic, basil, crumbled feta
Warm Homemade Pitta Breads (V)
Crispy Fried Chicken Wings
Chilled Cucumber & Avocado Gazpacho
Greek yoghurt, mint & coriander
Seared Scallops & Chorizo
squid ink polenta, braised spring onion
Pressing of Confit Duck & Chicken Leg
mushroom ketchup, pickled mushrooms
chicken skin toast
Grilled Tiger Prawns
garlic chilli butter, Asian green salad
Roasted Cherry Tomato, Basil & Parmesan Tart
caramelised onion jam, rocket salad
Smoked Mackerel Scotch Egg
light curried potato salad, golden raisins,
toasted almonds
Slow Cooked Mediterranean Green Beans
tomatoes, olive oil, Turkish spices
Adnams Dry Hopped Battered Fish & Chips
crushed peas, tartare sauce, lemon
Grilled Native Lobster
garlic chilli butter, French fries, salad
Roasted Hake
razor clam & squid gratin, broad beans, almonds,
spring onions & sautéed seaweeds
Grilled Plaice Fillet & Crab Gremolata
saffron potatoes, citrus braised fennel, red pepper
& shellfish butter sauce
Grill of the Day
Ask one of our friendly Folk for today's grill
BBQ Sticky Pork Ribs
potato salad, coleslaw, onions rings
Vegan Burger
spiced beetroot, red pepper & quinoa burger,
sweet potato fries, onion rings
Bavette Steak & French Fries
slow-cooked steak thinly sliced served medium rare,
globe artichokes, grape mustard dressing
Sweet Potato & Red Onion Tart (Ve)
balsamic glaze, sun blushed tomatoes, rocket salad
Crayfish & Clam Linguine
sun blushed tomato, fennel, chilli, crab butter, lobster cream
Classic Caesar Salad (v)
Cos lettuce, croutons, Parmesan, anchovies, dressing
add your choice of topping;
grilled chicken £3
smoked salmon £5
tofu £3
Catch of the Day
herbed crushed new potatoes, samphire, lemon caper butter
Day Boat Fish
freshly caught this morning off the English coast
Seafood Platter for 2
Chefs choice of seafood, French fries, sourdough bread
Why not add a bottle to accompany your Seafood Platter? With a bottle of Albarino La Val Orballo £120 or with a bottle of Coates & Sealy £150
Classic English Strawberry Eton Mess
meringue, Chantilly cream, strawberry gel,
crushed amaretti biscuit
Chocolate & Hazelnut Eclair
hazelnut chocolate cream, chocolate sauce, caramelised hazelnuts
Passion Fruit & White Chocolate Cheesecake
Gluten Free Dark Chocolate & Raspberry Torte (V)
Selection of Ice Cream or Sorbet
ice cream flavours; chocolate 154kcal, vanilla 133kcal, honeycomb 135kcal, mint chocolate chip 167kcal, strawberry
sorbet flavours; apple 102kcal, passion fruit 119kcal, elderflower 110kcal
Brudenell Cheeseboard
two cheeses, £12, or The Ultimate Cheeseboard £16
crackers, grapes, celery, chutney - speak to one of our Folk for today's cheese selection
Timings
Monday - Friday: 12pm - 2.30pm Lunch, 6pm - 8.30pm Dinner
Saturday - Sunday: 12pm - 3pm Lunch, 6pm - 8.30pm Dinner
All our food is prepared in a kitchen where nuts, gluten and other food allergens are present. Our menu descriptions do not include all ingredients - if you have a food allergy, please let us know before ordering. Full allergen information is available, please ask a Folk member for details.
From produce to plate
Oysters Rockefeller fresh from the sea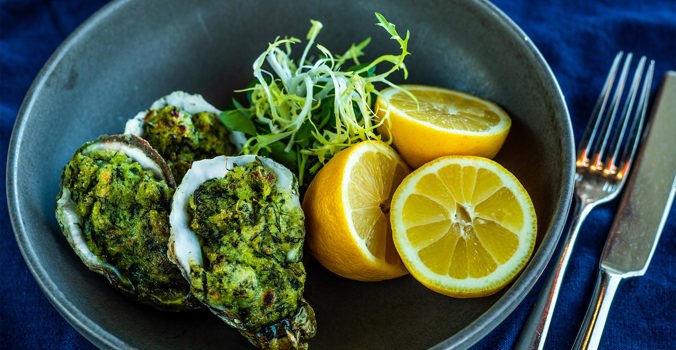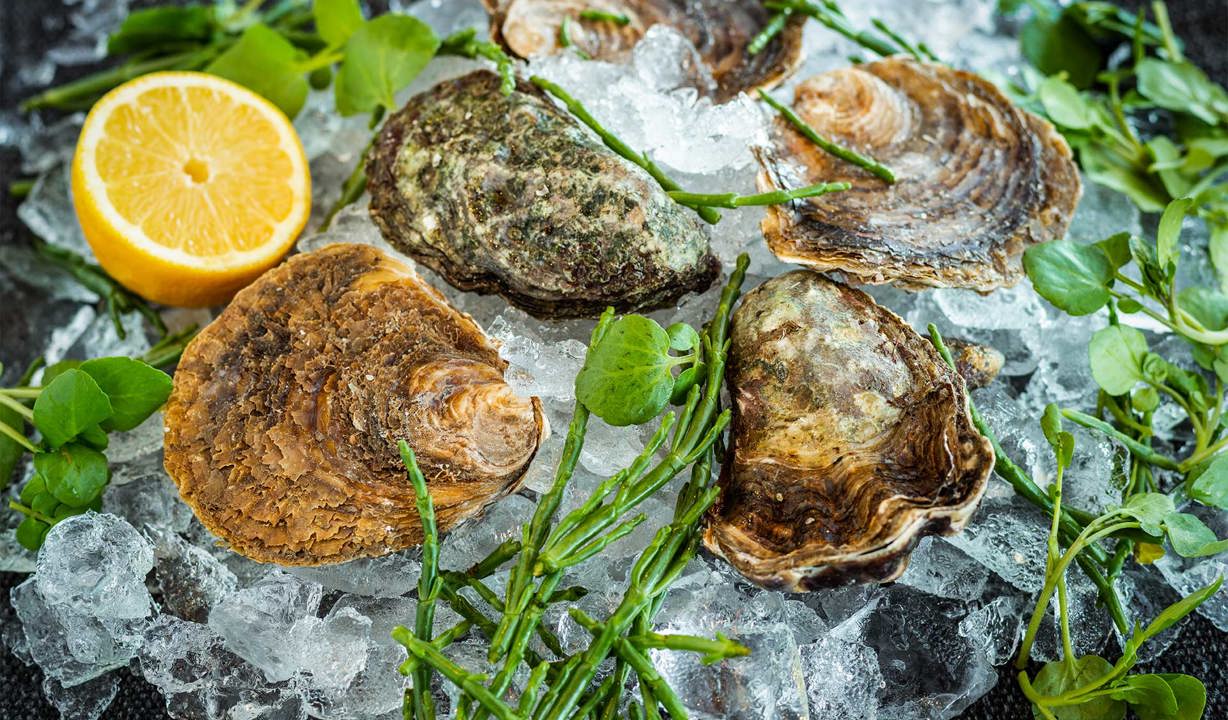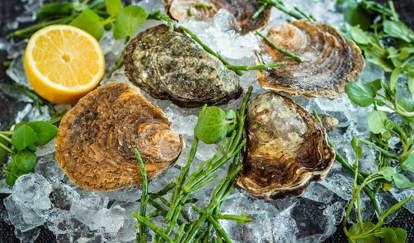 Welcome to the Seafood & Grill at The Brudenell, featuring the freshest local fish, seafood and free-range cuts.
Presided over by our Head Chef Darran Hazelton and his fellow culinary Folk, inspired by the sea offering you the finest tastes and flavours Suffolk has to offer.