Seafood & Grill Menu
Seafood & Grill Restaurant - Please note this is a sample menu
Warm pitta breads, hummus
Breaded halloumi sticks, herbed sour cream
Crab arancini, sweet chilli sauce
Seafood & Grill Restaurant - Please note this is a sample menu
Warm pitta breads, hummus
Breaded halloumi sticks, herbed sour cream
Crab arancini, sweet chilli sauce
Classic
6 delicious oysters with shallot vinaigrette, lemon
Half Lobster
Our lobsters are served hot or cold, with Thermidor sauce or garlic butter. Includes fries and salad. Why not add a classic oyster for £2?
Whole Lobster
Our lobsters are served hot or cold, with Thermidor sauce or garlic butter. Includes fries and salad. Why not add a classic oyster for £2?
Additional Information
Caught fresh from the heritage coastline of Suffolk, our lobsters and oysters are delivered daily, ensuring the best possible flavour in all our shellfish.
Smoked shell on prawns, garlic mayonnaise
Duo of smoked salmon, lemon
Can't decide? Try all of the above on a sharing platter
Additional Information
A selection of smoked fish and shellfish from the local smoke houses in Suffolk. All come served with our fennel and radish salad, sour dough croutes and lemon.
Soup of the day
Crusty bloomer
Salt & pepper squid
Asian slaw, sweet chilli mayonnaise, lime
Octopus carpaccio
Micro salad, lemon dressing
Brown crab & cheddar cheese tart
Cherry tomato jam
Escabeche sardines
Melted sweet peppers, rapeseed dressing, Ras al Hanout
Porchetta & warm apple sauce
Pecorino cheese, pea shoots
Additional Information
All served with your choice of side and sauce.
Adnams dry Hopped battered fish
Chunky chips, crushed peas, tartar sauce
Sea bass
Red pepper relish, runner beans, red pepper, chorizo dressing
Plaice fillets
Crab gremolata, sautéed cucumbers, cockles, samphire
Seafood Paella
Prawns, mussels, clams. Served for 1 or to share.
Additional Information
Sourcing fish responsibly is important to Darran. He passionately believes in promoting the most sustainable products available.
Lamb burger
Red cabbage coleslaw, BBQ sauce, french fries, onion rings
1/2 Grilled chicken
Pomegranate dressing, sweet potato wedges, herb sour cream
Dingley Dell pork chop
Blue cheese glaze, golden beetroot, potato salad
10oz aged rib eye steak
Chunky chips, garlic mushrooms, watercress, Café de Paris butter
Roast beef
Yorkshire pudding, roast potatoes, seasonal vegetables, red wine jus ONLY AVAILABLE ON SUNDAY
Brudenell's guest roast
Please ask our restaurant Folk for the roast of the day ONLY AVAILABLE ON SUNDAY
Additional Information
All of our meat and poultry is sourced from the best butchers in the county of Suffolk where possible.
Greek salad
Feta, watermelon, cucumber, sun-blushed tomato
Summer garden salad
Jersey royal potatoes, gem lettuce, pickled quail egg
Pistachio pesto linguine
Courgettes, baby spinach, pecorino cheese
Additional Information
To add meat or fish to your salad, please ask our restaurant Folk.
Sautéed local greens, garlic herb butter
Jersey royals, mint butter
Red pepper chorizo dressing
Dark chocolate brownie
Poached cherries, white chocolate mousse
Tropical fruit eton mess
Passion fruit curd, coconut Chantilly
Raspberry & vanilla creme brulee
Almond biscotti
Strawberry tart
Macerated in rosé wine, strawberry jam compote, vanilla cream
Fresh berry salad
Berry compote, soya yoghurt, toasted seeds
Selection of British cheese
Chutney & crackers
Seafood & Grill
Lunch: 12.00pm - 2.30pm (Mon-Fri), 12.00pm - 3.00pm (Sat & Sun)
Dinner: 6.00pm - 9.00pm (Sun – Thur), 6.00pm - 9.30pm (Fri & Sat)
All our food is prepared in a kitchen where nuts, gluten and other food allergens are present. Our menu descriptions do not include all ingredients - if you have a food allergy, please let us know before ordering.
From produce to plate
Oysters Rockefeller fresh from the sea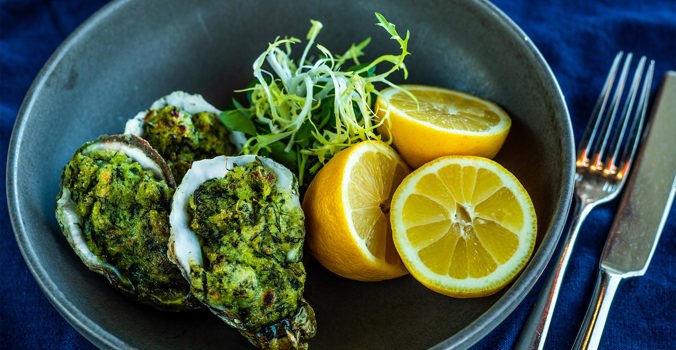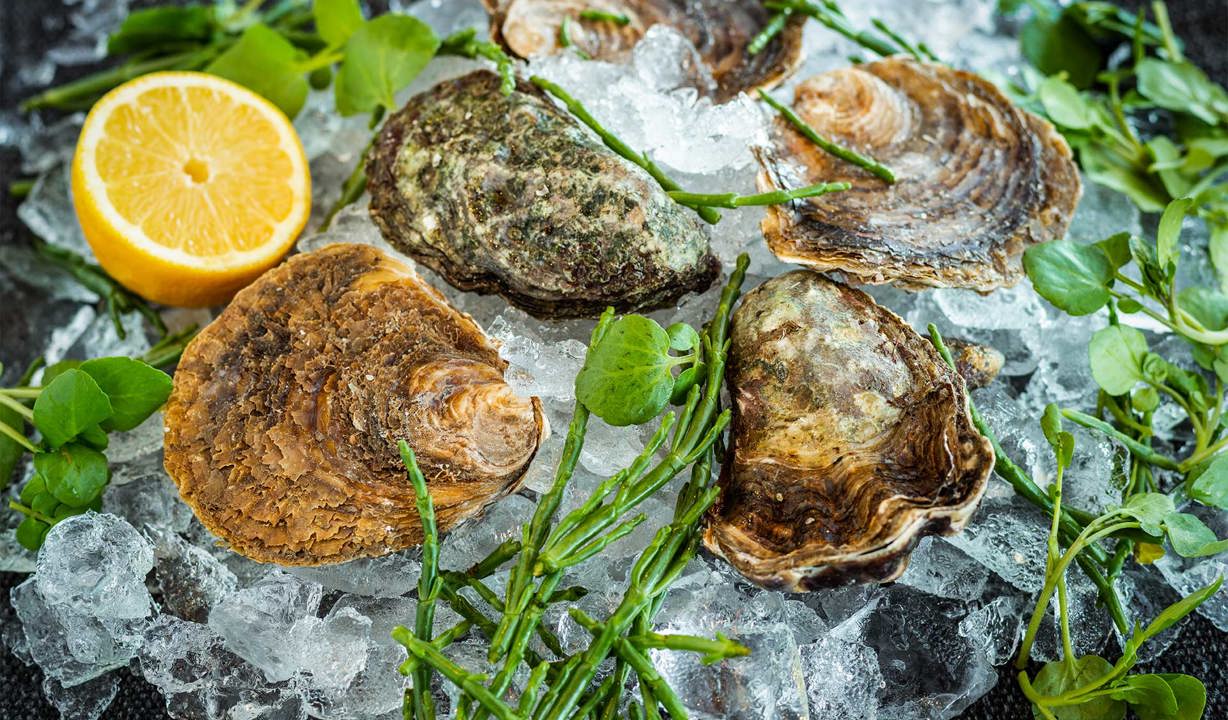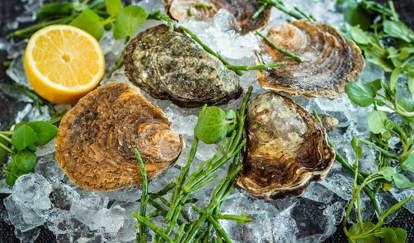 Welcome to the Seafood & Grill at The Brudenell featuring the freshest local fish, seafood and free-range cuts.
Presided over by our Head Chef Darran Hazelton and his fellow culinary Folk, inspired by the sea offering you the finest tastes and flavours Suffolk has to offer.