Seafood & Grill Menu
Seafood & Grill Restaurant - Please note this is a sample menu
Warm breads
with rapeseed oil, balsamic
Seafood & Grill Restaurant - Please note this is a sample menu
Warm breads
with rapeseed oil, balsamic
Can't decide? Try all of the above on a sharing platter
Additional Information
With a selection of smoked fish and shellfish from the local smoke houses in Suffolk. All come served with our fennel and radish salad, sour dough croutes and lemon.
Parsnip & apple veloute
with parsnips crisps, micro celery cress, chive oil
Home cured salmon gravadlax
with baby beetroot's, fresh figs, cream cheese
Soused red mullet
with cauliflower piccalilli, green yoghurt dressing
Oysters
6 delicious oysters with shallot vinaigrette, lemon
Crab ravioli
with shellfish bisque, tarragon oil
Game Terrine wrapped in streaky bacon
with cranberry orange chutney, toast
Wood pigeon pithivier
with white onion purée, hazelnut jus
Why not add extra classic oysters
Additional Information
All served with your choice of side and sauce.
Adnams dry hopped battered fish
with chunky chips, crushed peas, tartar sauce
Mouclade of mussels & fries
with lightly curried, saffron leeks, coriander
East Coast Fish Pie
with saffron potatoes, garden peas
Cod
with smoked cockles, broccoli, baby fennel, endive
Pan fried stone bass
with Jerusalem artichoke puree, wild mushrooms, salsify & spiced red wine
Additional Information
Sourcing fish responsibly is important to Darran. He passionately believes in promoting the most sustainable products available.
Buttermilk chicken thigh burger
with french fries, bacon mayonnaise, onion rings
Slow cooked beef cheeks in red wine
with creamed potato, confit shallot, carrot, bacon
Pheasant breast
with parsnips, blackberries, creamed cabbage, game jus
10oz sirloin steak
with chunky chips, garlic mushrooms, watercress, Café de Paris butter
Traditional roast turkey
with sage apricot stuffing, festive trimmings. Only available on Sundays.
Roast beef
with yorkshire pudding, roast potatoes, seasonal vegetables, red wine jus. Only available on Sundays.
Brudenell's guest roast
Please ask our restaurant Folk for the roast of the day. Only available on Sundays.
Additional Information
All of our meat and poultry is sourced from the best butchers in the county of Suffolk where possible.
Roasted beetroot & cumin feta
with raspberry dressing, walnut
Cauliflower potato croquette
with truffle cheese sauce, roasted leeks, parsley crumb
Herbed gnocchi & pumpkin
with sage pesto, shallots and Shimeji mushroom
Additional Information
Please view our vegan menu for further options
Baron Bigod dauphinoise potato
Blackberry macaron
with figs, almonds, blackberry ganache
Poached autumn fruits
with soya yoghurt, toasted seeds
LillyPuds christmas pudding
Cinnamon panna cotta
with spiced blackberry, ginger shortbread
Set chocolate custard
with orange compote, orange sorbet
Selection of British cheese
Selection of ice-cream or sorbet
Strawberry, Chocolate, Vanilla, Coconut, Baileys & Honeycomb Blackcurrent, Raspberry, Blood Orange & Apple
Seafood & Grill
Lunch: 12.00pm - 2.30pm (Mon-Fri), 12.00pm - 3.00pm (Sat & Sun)
Dinner: 6.00pm - 9.00pm (Sun – Thur), 6.00pm - 9.30pm (Fri & Sat)
All our food is prepared in a kitchen where nuts, gluten and other food allergens are present. Our menu descriptions do not include all ingredients - if you have a food allergy, please let us know before ordering.
From produce to plate
Oysters Rockefeller fresh from the sea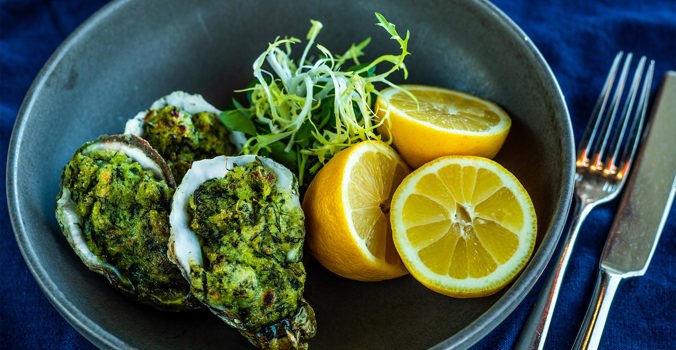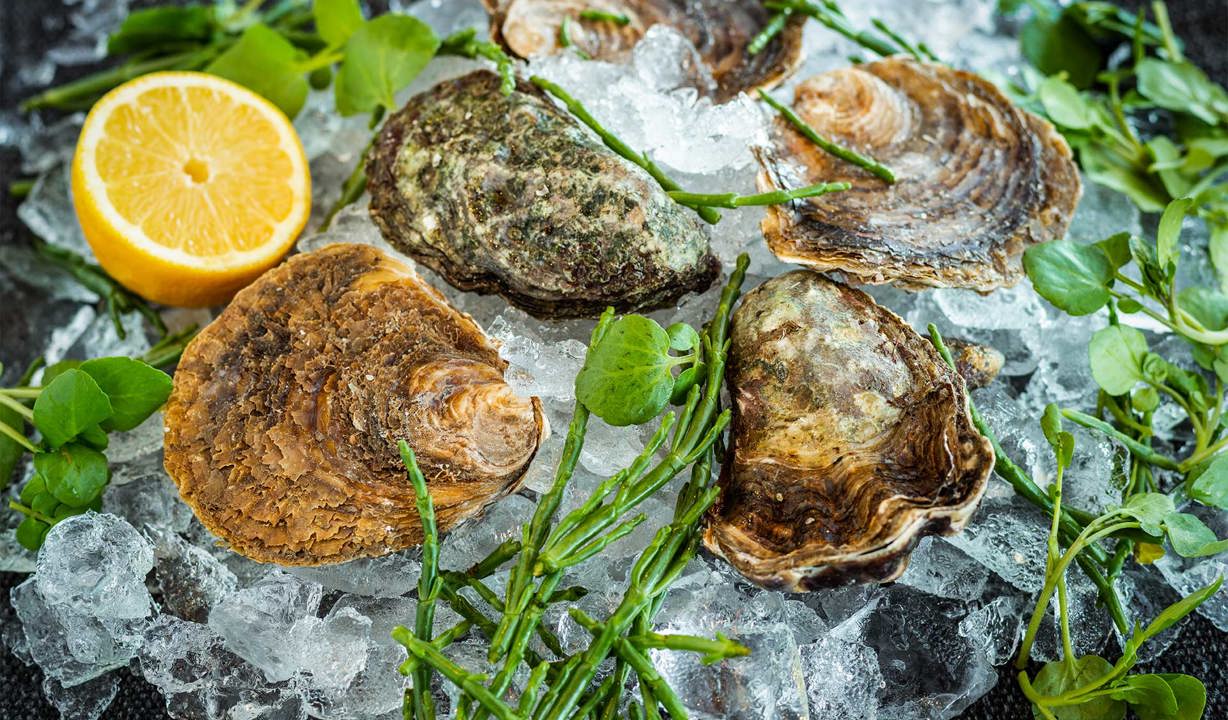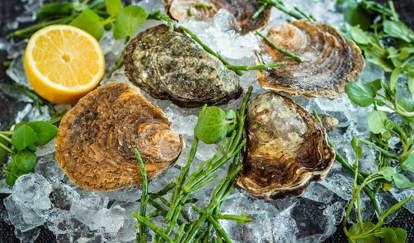 Welcome to the Seafood & Grill at The Brudenell featuring the freshest local fish, seafood and free-range cuts.
Presided over by our Head Chef Darran Hazelton and his fellow culinary Folk, inspired by the sea offering you the finest tastes and flavours Suffolk has to offer.