Seafood & Grill Menu
Seafood & Grill Restaurant - Please note this is a sample menu
Crusty breads
with rapeseed oil, balsamic
Seafood & Grill Restaurant - Please note this is a sample menu
Crusty breads
with rapeseed oil, balsamic
Can't decide? Try all of the above on a sharing platter
Additional Information
With a selection of smoked fish and shellfish from the local smoke houses in Suffolk. All come served with our fennel and radish salad, sour dough croutes and lemon.
Home cured salmon gravadlax
with baby beetroot's, fresh figs, cream cheese
Soused red mullet
with cauliflower piccalilli, green yoghurt dressing
Pinney's of Orford rock oysters
with a choice of natural or Rockefeller
Hand picked crab tian
with Yuzu, ginger, avocado & quail eggs
Farmhouse pork terrine
with pear & prune chutney, toast
Confit duck leg boudin
with red wine, poached rhubarb, chicory, toasted spiced nuts
Additional Information
All served with your choice of side and sauce.
Adnams dry hopped battered fish
with chunky chips, crushed peas, tartar sauce
Mussels steamed in local cider
smoked bacon, crème fraiche and parsley served with French fries
East Coast Fish Pie
with saffron potatoes, garden peas
Pan fried stone bass
with seafood, chickpea, chorizo & red pepper stew
Additional Information
Sourcing fish responsibly is important to Darran. He passionately believes in promoting the most sustainable products available.
Bacon cheese burger & french fries
with brioche bun, beef tomato, gherkin, onion rings
Slow cooked veal
with glazed spring carrots, truffle mac & cheese
Coq au riesling
with creamed potato, button mushrooms, baby veg, tarragon, crispy bacon
10oz sirloin steak
with chunky chips, garlic mushrooms, watercress, Café de Paris butter
Roast beef
with yorkshire pudding, roast potatoes, seasonal vegetables, red wine jus. Only available on Sundays.
Brudenell's guest roast
Please ask our restaurant Folk for the roast of the day. Only available on Sundays.
Additional Information
All of our meat and poultry is sourced from the best butchers in the county of Suffolk where possible.
Charlotte potato & olive tagine
with crispy chickpeas, coriander, roasted spiced cauliflower, dates, saffron
'Imam Bayildi' Turkish aubergines
with tomato, coriander, cucumber spaghetti & minted yoghurt, pitta bread
Twice baked Stilton soufflé
with red wine poached pears, walnut shallot dressing, green beans
Additional Information
Please view our vegan menu for further options
Herb Crushed New Potatoes
Paris brest cake
with choux pastry, hazelnut, praline crème pat
Winter poached fruits
with honey & soya yoghurt
Yuzu parfait
with white chocolate, ginger bread, whipped yoghurt
Gerbeaud slice
with walnut, apricot dark chocolate
Selection of British cheese
Selection of ice-cream or sorbet
with a choice of strawberry, chocolate, vanilla, baileys, honeycomb blackcurrant, raspberry, blood orange
From produce to plate
Oysters Rockefeller fresh from the sea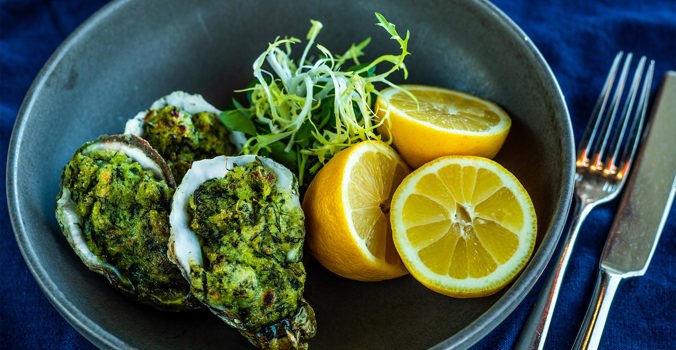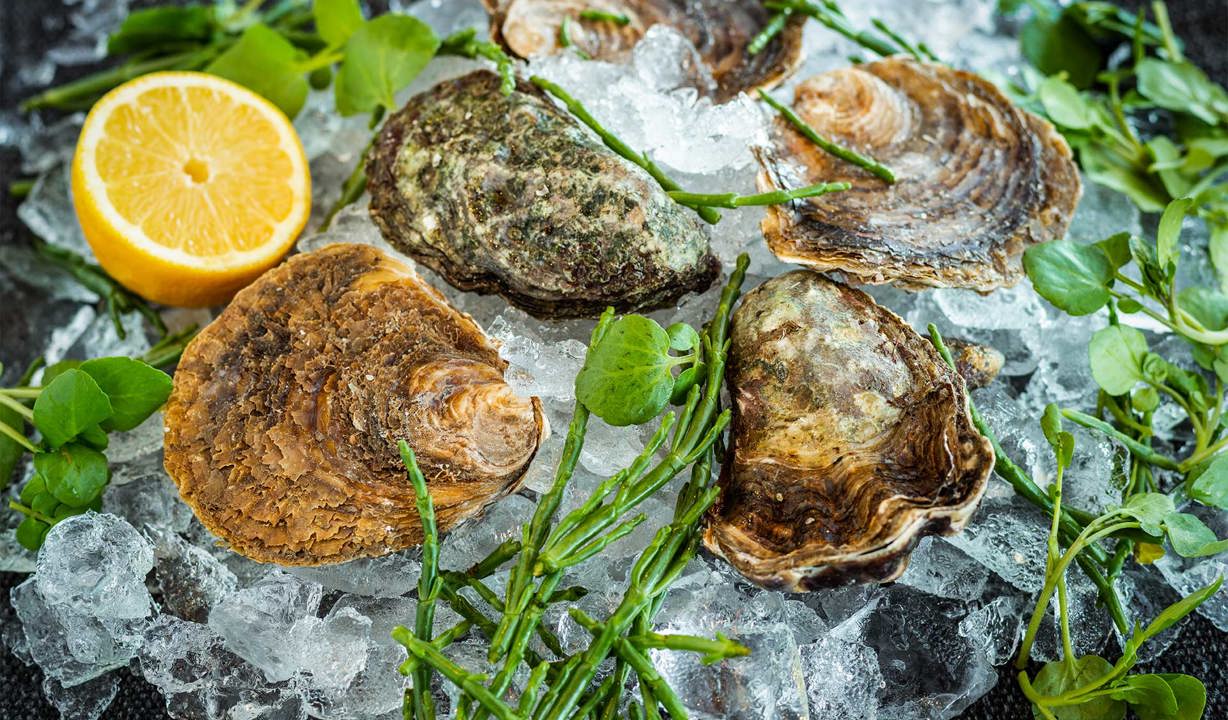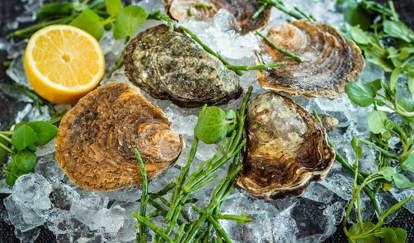 Welcome to the Seafood & Grill at The Brudenell featuring the freshest local fish, seafood and free-range cuts.
Presided over by our Head Chef Darran Hazelton and his fellow culinary Folk, inspired by the sea offering you the finest tastes and flavours Suffolk has to offer.