Seafood & Grill Menu
Seafood & Grill Restaurant - Please note this is a sample menu
Homemade vegetable crisps, spiced nuts
Warm pitta breads, hummus
Breaded halloumi sticks, herbed sour cream
Seafood & Grill Restaurant - Please note this is a sample menu
Homemade vegetable crisps, spiced nuts
Warm pitta breads, hummus
Breaded halloumi sticks, herbed sour cream
Fishers gin
Cucumber, watermelon
Natural
Shallot vinaigrette, lemon, Tabasco
Rockefeller
Grilled, watercress, breadcrumbs
Additional Information
Fresh from Mersea Island, Colchester we're an oyster farm, where we grow and dredge our own native and rock oysters, renowned the world over.
Smoked shell on prawns, garlic mayonnaise
Taramasalata smoked cod roe
Platter of smoked salmon, egg mayonnaise
Can't decide? Try all of the above on a sharing platter
Additional Information
A selection of smoked fish and shellfish from the local smoke houses in Suffolk. All come served with our fennel and radish salad, sour dough croutes and lemon.
White onion & cheddar velouté
Cheddar yoghurt, chive oil
Pickled mackerel
Bloody Mary dressing, potato & celery salad, horseradish
Fennel cured salmon
Cumin spiced cous cous, pomegranate dressing
Smoked haddock & leek tart
Crème fraîche, polonaise sauce
Poached razor clams
Cockles, buttered almonds, samphire
Homemade 'brawn' pork terrine
Celeriac remoulade, beer pickled onions
Additional Information
Pan fried, poached or grilled. All served with your choice of side and sauce.
Adnams Dry Hop battered fish
Rosemary fries, crushed peas, tartar sauce
Roasted hake
Mussels, chorizo, tomato stew
Cider cured Chalk Farm trout
Spiralised vegetables, shellfish butter sauce, brown crab
Poached halibut in ver jus
Pearl barley, braised spring onions, wild mushrooms
Additional Information
Sourcing fish responsibly is important to Darran. He passionately believes in promoting the most sustainable products available.
The 'Bru' burger
Brioche bun, smoked bacon, Swiss cheese, onion rings, fries
Slow cooked duck leg
Toulouse sausage, white beans, spring greens
Braised lamb shank
Root vegetables, buttered king cabbage
10oz aged rib eye steak
Rosemary fries, garlic mushrooms, watercress, Café de Paris butter
Roast beef
Yorkshire pudding, roast potatoes, seasonal vegetables, red wine jus ONLY AVAILABLE ON SUNDAY
Brudenell's guest roast
Please ask our restaurant Folk for the roast of the day ONLY AVAILABLE ON SUNDAY
Additional Information
All of our meat and poultry is sourced from the best butchers in the county of Suffolk where possible.
Fennel & orange
Quinao, tahini dressing, pine nuts
Roasted aubergine
Chickpea, baba ganoush, tomato
Roasted cauliflower & truffle pasta
Charred leeks, sprouting broccoli, hazelnut crumb
Additional Information
To add meat or fish to your salad, please ask our restaurant Folk.
Hand-cut rosemary fries, sea salt
Sautéed local greens, garlic herb butter
House salad, lemon dressing
Herbed crushed new potatoes
Dill & caviar beurre blanc
Brown shrimp caper butter
Seasonal berries, honey soya yoghurt, toasted seeds
Crêpes suzettes, Grand Marnier, oranges, vanilla ice cream
Triple chocolate brownie, poached raspberries
White chocolate, banana, peanut pudding, clotted cream, caramelised banana
Pistachio, olive oil cake, apricot
Welsh rarebit, sour dough, beetroot relish & salad
Selection of British cheese's, chutney, crackers
Selection of ice creams & sorbets
All our food is prepared in a kitchen where nuts, gluten and other food allergens are present. Our menu descriptions do not include all ingredients - if you have a food allergy, please let us know before ordering.
From produce to plate
Oysters Rockefeller fresh from the sea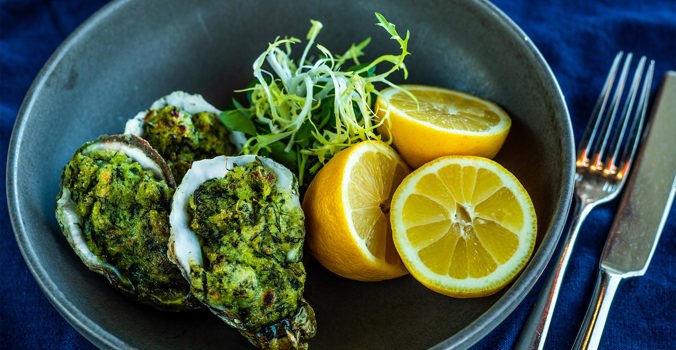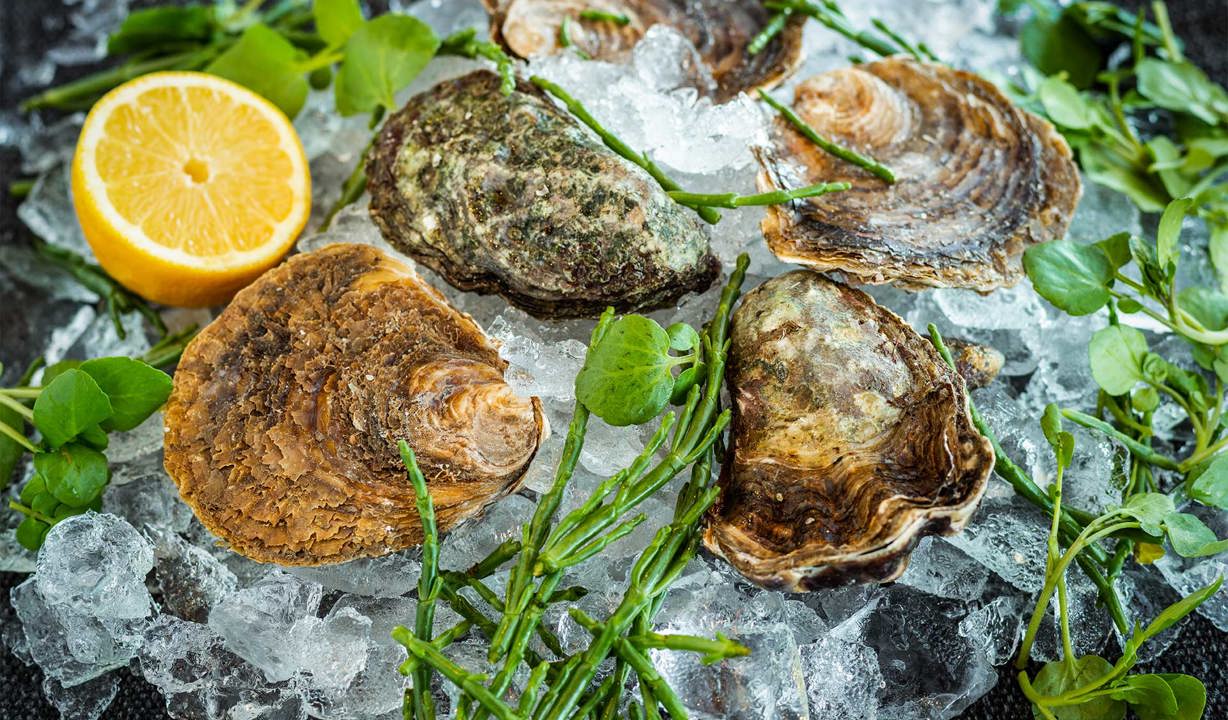 Welcome to the Seafood & Grill at The Brudenell featuring the freshest local fish, seafood and free-range cuts.
Presided over by our Head Chef Darran Hazelton and his fellow culinary Folk, inspired by the sea offering you the finest tastes and flavours Suffolk has to offer.
Restaurant Times
Lunch
Monday - Friday
12.00pm - 2.30pm
Saturday and Sunday
12.00pm - 3.00pm
Dinner
Sunday to Thursday
6.00pm - 9.00pm
Friday & Saturday
6.00pm - 9.30pm